Masonic Village at Burlington
At Masonic Village we offer two different levels of Memory Care where our residents are surrounded by a highly skilled, compassionate team of professionals who create a safe, nurturing environment for each individual. Our dedicated staff members develop personal relationships with each resident, and residents benefit from the understanding, patience, and consistency in routine they find here.
Our Cedar Cove Memory Care neighborhood offers 20 private Assisted Living suites. Our Cindy Springs Memory Care Neighborhood offers 14 private suites for those who require a skilled level nursing care and have been diagnosed with Alzheimer's disease or other forms of Dementia.
Private room with private bath
Supportive therapy through the certified Music & Memory program
Three delicious meals per day served restaurant style in a secure dining room

Daily bed-making and trash removal

Weekly housekeeping, linen service
Weekly personal laundry service
Personalized care plan designed to meet specific needs
Dedicated caregivers specially trained in memory loss
Licensed medical staff on duty 24 hours per day
about Memory Care at Masonic Village at Burlington?
Fill out the form below and one of our staff members will help answer any questions you have about our community.

Masonic Village at Burlington is the only place for memory care in the area to feature the renowned Heartfelt CONNECTIONS—A Memory Care Program®. This person-centered philosophy is grounded in the belief that the abilities that remain are far more important than those that are lost. Our team employs reminiscence tools to help our residents' family members and loved ones capture the details of residents' lives—their careers, hobbies, likes, and dislikes. We then apply the insights gained from each life story to create an individualized care plan that promotes physical and emotional well-being, prolongs daily functioning, and maintains a sense of purpose, satisfaction and quality of life.
Benefits for Your Loved One
Promotes dignity and a sense of pride and accomplishment in day-to-day activities
Supports improved self-worth, self-esteem, and overall health and well-being
Reduces fear, anxiety, and frustration
Benefits for You
Provides the comfort of knowing your loved one is enjoying the best quality of life possible
Allows you to return to being a loving spouse, child, or grandchild
Gives you the opportunity to make the most of your time together
Highly Trained Memory Care Staff
With 24-hour on-site nursing and assistance with daily living, our Memory Care residents receive constant support.  Every member of our Memory Care staff are trained as either Certified Nursing Assistants (CNAs) or as Certified Home Health Aides (CHHAs), and all of them receive extensive additional training in Alzheimer's and Dementia care so they fully understand memory support services, behaviors, and care protocol.  Their specialty training is ongoing throughout their employment to ensure that the Memory Care provided is cutting edge.
State-of-the-Art Memory Facilities
Our state-of-the-art interactive memory support neighborhood, Cindy Springs, brings comfort, care, and connection to late-stage dementia residents with its unique life-skill station design. Cindy Springs uses the latest visual-spatial and tactile design elements to provide a rich and stimulating environment for individuals in the late stages of the dementia process.  Resident safety is our top priority, so our extensive memory facility is designed to bring the feel of "home" to each resident without the risks of being on their own.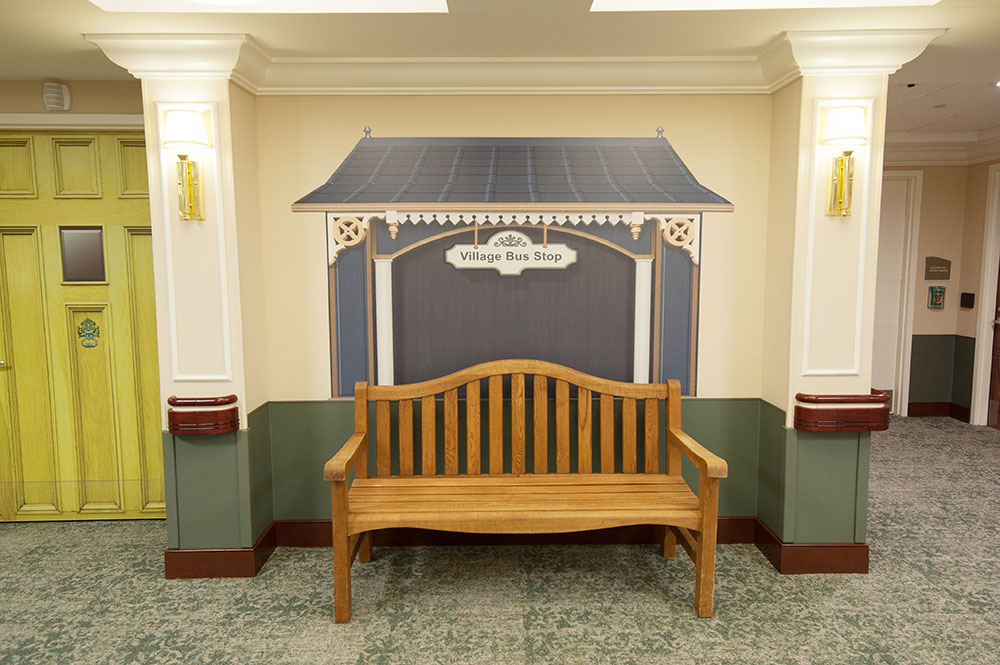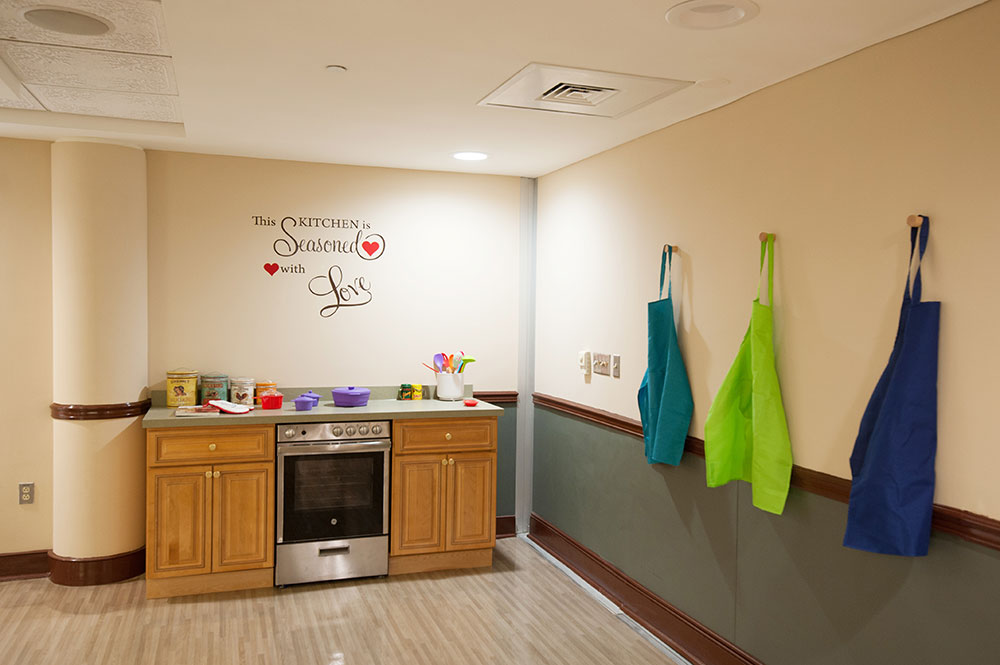 Memory-Support Programming
Programs and activities for memory support residents are designed to fit each resident's specific needs, as well as address how far their memory loss has progressed.  Masonic Village at Burlington is a certified Music & Memory program, which uses music in memory support therapy.  Our staff is specially trained to integrate music into the daily lives of our Memory Care residents.
Learn more about our Cindy Springs Memory Care Neighborhood!
The Finances of Assisted Living
We are a Medicare/Medicaid certified facility.  Each program covers different memory support treatments, but may not cover the costs of living on-site.  Private insurance may be used to help cover those costs.
Direct Admissions Welcome
Anyone can be admitted to Memory Care. You do not need to be a current resident at Masonic Village at Burlington. Masonic affiliation is not required.